Shuttle-Bus Stops
Prague Airport – Terminal 1 and Terminal 2
The shuttle-bus departs from the front of the arrival hall parking lot. Once you arrive either at Terminal 1 or Terminal 2, our driver will collect the passengers and will accompany them to the allocated minibus at the nearby parking lot. For easy identification, once you arrive please look for the driver holding an orange sign with a Prague Airport Transfers logo along with your name. Please note that you might be requested to wait up to 30 minutes because the shuttle-bus departs at 30-minute intervals.
Prague City Centre Stop (Terminus)
The stop is located at the kiosk at Národní 40. The kiosk is clearly marked as PREMIANT City Tour with a Prague Airport Transfers sign. The location is very close to Wenceslas Square, with metro lines A and B station MŮSTEK access (just 3 to 5 minutes' walk).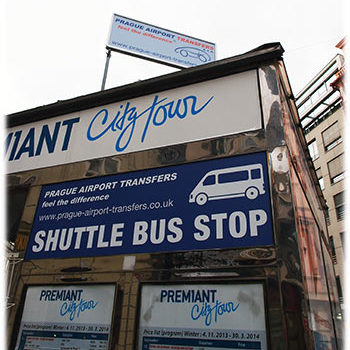 Fare
Our standard fare is 140 CZK for one person between the Airport and a central stop in Prague. Transport of two pieces of standard luggage per person is included in the price; persons with more, or with oversized luggage should consider alternative transport or might need to pay extra.
Travel Time
Estimated travel time from or to the airport is about 30 minutes. Please take into consideration that the travel time estimate is only approximate, and actual travel time might be prolonged by extra stops and by traffic for up to 60 minutes.
Bus Departure Times
The shuttle-bus departs in both directions every 30 minutes. Departure time from the airport is flexible and is bound to your flight's actual arrival time. We monitor your flight online and we wait for you even in the case of your flight being delayed, or an early arrival. Once you are met by our representative at arrivals, the driver will also collect other passengers from flights arriving at approximately the same time as yours, before the shuttle-bus departs. For transfers to the airport, there is a fixed schedule and the shuttle-bus departs on the hour and each half hour (every 30 minutes around the clock).
Pickup Conditions
Departure from the Airport: If departing from the airport, please wait inside the arrival lobby for your driver. The driver will be waiting holding a sign with your name on a Prague Airport Transfers orange card.
Departure to the Airport: It is important that you are ready at the pickup stop at least five minutes before the scheduled departure time; otherwise we do not guarantee your pickup. If departing to the airport please look for a minibus with a sign with the Prague Airport Transfers logo, or ask the kiosk staff for assistance.
Is this shuttle-bus service available from my hotel?
Unfortunately this service is available only to the one city-centre stop. If you wish to order a door-to-door shuttle service, please refer to our other private or shared hotel shuttle services.
Do I have to pre-book this service or can I just show up at the Airport or City Centre Stop?
Yes, we highly recommend making an advance booking. Although you might be able to board our shuttle-bus on the spot if there are empty seats, it is not the best bet.
What are the accepted payment methods?
You can pre-pay the Shuttle-bus online or pay on the spot by cash or credit/debit card.
Does the Shuttle-bus transfer children?
Yes, there is no problem. Just inform us during booking so we can make sure that proper child seats are arranged.
Is your Shuttle-bus the cheapest way of getting to Prague City Centre?
No, local public buses are slightly cheaper. But considering the longer transport time and the necessity of transfers from bus to metro or trams makes the journey by overcrowded public bus quite long and tiring. Also, after 11.30pm and during the early morning hours public transport to or from the airport is very difficult, as there are only very limited night buses which run very infrequently, and the metro is not operating. When travelling by public bus with more luggage, it is also not very convenient and you might need to pay a ticket for luggage as well. For an extra 3 or 4 Euros you will get very comfortable transport to the city centre of Prague.
What happens if I miss my flight?
There's no problem; if you arrive on a later flight, just inform us either before you arrive or failing that, once you arrive, and we will arrange another Shuttle-bus to pick you up at the airport at a later time, a maximum of 30 minutes from the time you call us.
What vehicles are used for Shuttle-buses?
Mostly we use Mercedes Vito or VW Transporter 8-seater minibuses. On rare occasions we might use larger Mercedes Sprinter minibuses for up to 20 passengers.
Where exactly is the drop-off location in the city centre?
It is on Národní street 40, near the Tesco department store and a 200-metre walk from the bottom of the Wenceslas Square. Old Town Square is 700 metres far or about 8 minutes' walk away.