Including a buffet dinner, aperitif and live music on board. Free pickup from your hotel at 6.10pm to 6.25pm. Cruise starts at 6.50pm and finishes at 10pm.
NORMAL PRICE CZK 1150 PER PERSON. SPECIAL DEAL – PAY JUST CZK 690 (€ 27) PLUS GET A FREE ONE-WAY PICKUP FROM YOUR HOTEL.
Although Prague is a beautiful city no matter what time of day, it's especially enchanting by night. When the sun goes down, twinkling lights illuminate the city's ancient buildings, which are best seen from the River Vltava running through the city's centre.
On our Prague river cruise, you'll travel down the Vltava, passing famous sights like Charles Bridge, Lesser Town, the Church of St Nicholas, Prague Castle and the National Theatre – all while enjoying dinner and live music on board. Dinner is a buffet of both hot and cold dishes, and you'll also receive a welcome drink included in the cruise price.
Upon boarding the boat, you will be welcomed by our hostess who will take care of you during the cruise. The hostess does not substitute for a tourist guide; nevertheless, she will provide you with at least the basic information on the cruise programme and assist you if you have any enquiries or problems. There will also be professional barkeepers and catering staff looking after you.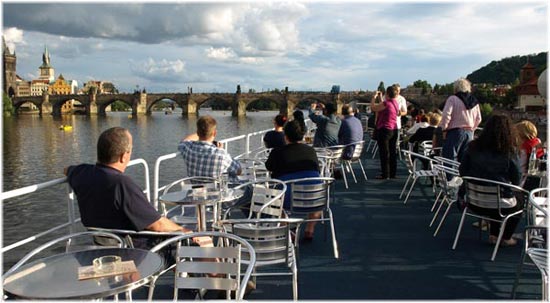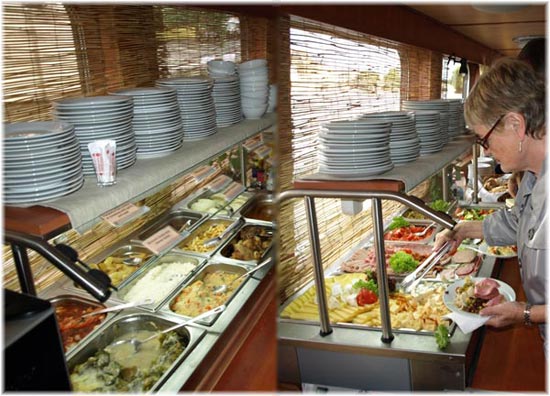 Boat Departure Point
You can arrive directly at the embankment from which the boat departs. The boat is located between the Čechův Bridge and Šfefánikuv Bridge, closer to the Štefánikuv Bridge. It takes about 15 minutes to get there from the Old Town Square. The easiest way is to go down Pařížská Street, and when you reach the riverbank, walk down to the pier and continue to the right of Prague Castle until you see the boat marked with the sign CLASSIC RIVER. Please be at the boat departure pier at least 15min before boat departure time. If you booked transportation to the boat, the driver will pick you up directly at the hotel reception or at the given address.